As one of the most human-centric parts of an organization, the HR department is constantly evolving and adopting new measures to take the business to new heights. Recent developments in technology have shifted the HR paradigm towards modern people/data management processes. The focus is now on creating sustainable business development through information-based approaches of identifying patterns, calculating costs, tracking performance, and discovering new opportunities to deliver critical insights, thereby making informed decisions.

In this blog, we will discuss everything you need to know about the biggest talk of the HR town today - HR Analytics.
Without further ado, let's get started!

What is HR Analytics?
HR analytics AKA people analytics, talent analytics, or workforce analytics is a data-driven approach towards HR management. It revolves around gathering, analyzing, and reporting HR data through interpretation of data patterns to measure the impact of HR metrics on overall business performance and make decisions based on the same.
HR analytics meaning can be best explained by the scientific definition of Heuvel & Bondarouk – "HR analytics is the systematic identification and quantification of the people drivers of business outcomes." 
The phenomenon deals with people analysis by implementing analytical processes to the human capital. The approach doesn't focus on tracking employee performance data. Rather, the sole aim of HR analytics is to provide better insight into each HR process, collect relevant data, and use it to draw conclusions.

What is the importance of HR Analytics?
The use of HR analytics has several benefits that make the organization more strategic and drive long-term benefits for your business, if used effectively.
You can answer various important questions about the organization's HR system using HR analytics such as:
1. Is your employee turnover rate high or low and to what degree?
2. What is the percentage of employee turnover that is considered a regretted loss?
3. Which of your employees will quit working in your organization within a year?
Besides answering the aforementioned significant questions, Human resource data analytics is proves beneficial to a business in the following ways:
Using HR metrics and analytics, descriptive, predictive, and prescriptive reports can be prepared which help in minimizing employee attrition/churn rate
Analytics can help businesses get to the bottom of employee turnover rates and identify severe lapses to improve their retention rate
The indulgence of AI and automation in hiring and virtual onboarding improves the overall hiring process
The newly adapted exercise of virtual training and upskilling is used to upgrade talent processes
HR analytics boost employee productivity through detailed performance management, succession planning, and career development
Data security, transparency, and ease of data accessibility achieved with the help of HR analytics help in strengthening employee trust
Enhances employee experience by monitoring pain areas, and ultimately improving HR performance

What are the examples of HR Analytics?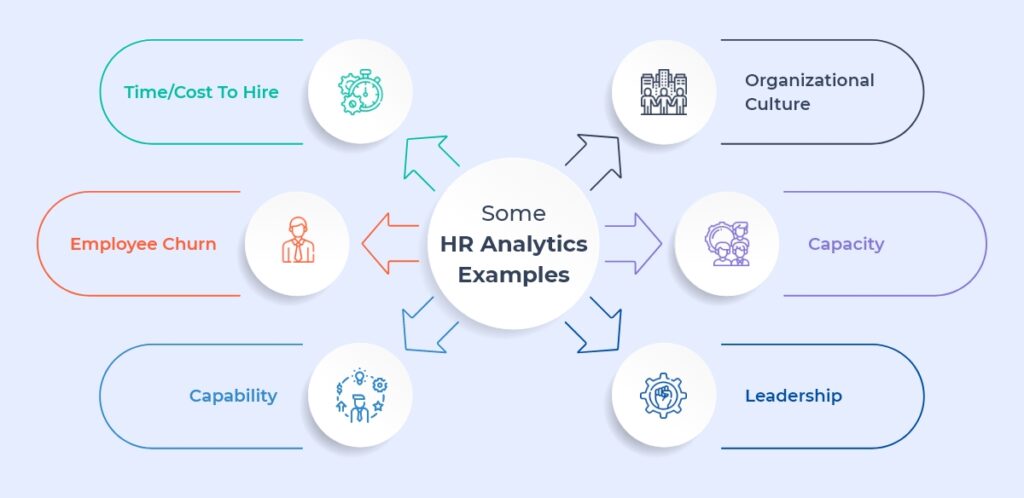 What are the key metrics in HR Analytics?
Time To Fill: The days between posting a job opening, hiring an employee, and filling the vacant position is termed as time to fill. By measuring this time, recruiters can enhance their strategy to identify the most time-taking areas.
Time To Hire: Total number of days taken from approaching a candidate to the offer acceptance. Data-driven analysis of time to hire helps recruiters reduce this time and improve overall candidate experience.
Offer Acceptance Rate: Total accepted formal job offers divided by the number of offers given in a certain period. If this rate is lower, this data can be used to redefine the company's talent acquisition strategy. A rate above 85% indicates a good ratio.
Training Efficiency: This factor is measured from the analysis of multiple data points like performance improvement, test scores, and upward transition in employee roles in the organization post training.
Training Expense Per Employee: Divide the total training expense by the number of employees who received training and you will receive this expense. Training efficiency can be used to determine the value of this expense.
Revenue Per Employee: This amount is deduced by dividing business revenue by the total employees in the company. This factor suggests the average revenue generated by each employee individually.
Voluntary Turnover Rate: When employees voluntarily choose to leave their jobs, the phenomenon of voluntary turnover occurs. It can be obtained by dividing the total employees who left voluntarily by the total employees in the organization.
Involuntary Turnover Rate: Involuntary turnover occurs when an employee is terminated from his/her position. This rate is calculated by dividing the total employees who left involuntarily by the total employees in the organization.
Absenteeism: This one is a productivity metric, evaluated by dividing the number of days missed by the total number of scheduled workdays. Absenteeism can offer insights into overall employee health and an indication of employee happiness.
Human Capital Risk: This factor includes employee-related risks including absence of a particular skill to fill a job vacancy, dearth of qualified employees to fill leadership positions, the potential of an employee to leave the job based on several factors, such as relationship with managers, compensation, and no clear succession plan.
HR analytics can be used to measure all these metrics.

How to use HR Analytics & Metrics to drive performance?
In order to use HR metrics strategically, you need to first understand the role that metrics play in People Analytics. Moreover, religiously building a business case, and identifying the workforce-diven components of business-driven metrics can drive business performance.
"HR analytics could be used to measure investments in reskilling, which will deliver the right competencies to support a new revenue model, using data-driven insights to modify the training offering as sales results emerge." – Mick Collins
4 tips recommended by SHRM to drive business performance using HR Analytics & Metrics:
1. Do not measure things for the sake of metrics. Focus on data insights and analysis and drawing conclusions from it.
2. Adjust the reporting strategy such that all your metrics lead to action.
3. Identify the right audience for each HR metric and distribute relevant metrics as per specific responsibilities.
4. Determine organizational goals and targets for each metric that directly links to the overall business success.
Conclusion
All the effort you put into human resources is extremely crucial to your organization's well-being and profit. If you do not measure and track the HR metrics that count, it can become difficult to analyze how your work makes a difference or how you can improve your efforts to better your approaches. Hence, HR analytics & metrics are the real drivers of a successful and streamlined organization.