Human Resource Management Software Systems
Best Cloud-based HR Software in India for Enterprises
HROne is the best human resource software that automates all your HR operations intelligently. and simplifies your workday. In other words, our cloud HR systems works on a smart 1:7 work ratio implying that it does all your routine tasks in an average of 1 hour per day through automation.
Request a Demo
Why HROne HRMS Suite is the Best?
HROne- Top HRMS software on a mission to save 1 billion HR hours
Intelligent automations, simple interactions and actionable insights- all power packed in one!
Mobile App
Give your employees the convenience of on the go HR services
HROne HR software systems also offer on-the-go access to complete HR information and freedom to execute all actions from the comfort of your mobile phone. Go truly mobile with HROne.
Workforce
Attendance
Payroll
Engagement
Integrations
We get along well with your existing software
HROne HR software for startups and enterprises seamlessly integrates with other cloud & on‑premises softwares you already use. HROne lets you easily connect with 15+ app & tools to help you get the job done.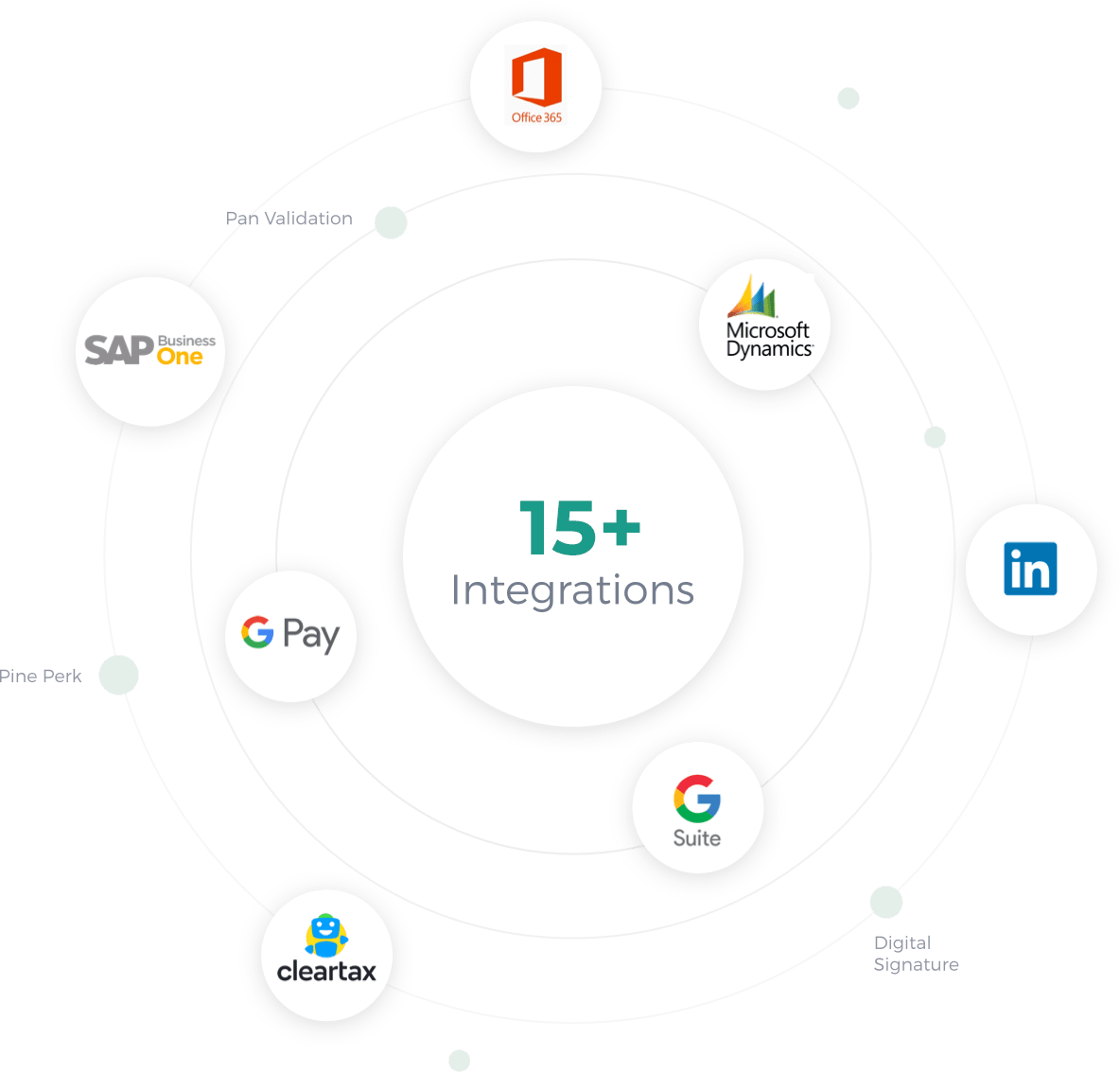 The Top 6 benefits of an
HR Software
Structured Administration and Less Paperwork
If you look and ask around in your office, the department that bears the maximum responsibilities is Admin. From salaries and training courses to benefits and time-offs, managing an administrative job is a huge affair. But thanks to thanks to cloud based HR systems that have made (Human Resource Information System) and Cloud technology that have made the Admin's work easy and trouble-free. All the details are safely stored in the system which minimizes paperwork and facilitates easy information access. Besides, cloud storage enables data integration and data centralization for a well-ordered database management.
Enhanced Information Security & Privacy
Once the data is managed properly, the next step is to keep it secure. There is a large amount of confidential information stored in every company's database that needs protection from breaches and cyber attacks. This is where HR software again shows its dominion. Disaster Recovery is one of the biggest assets that come along with the automated Disaster recovery is one of the best benefits of using HR software tools. Data stored on the cloud is backed up and stored in multiple locations for quick recovery in case of thefts and frauds. Meaning, in case of system failure or hack, you can restore the information at a finger snap!
Increased Process Efficiency
The fact that HRMS systems is responsible for mechanizing almost all the HR operations and their seamless integration, is enough to deduce that it promotes process efficiency. Also, the tasks are made ten times simpler with a smooth cross-organizational communication between the employees. One huge add-on in making the processes efficient is that there is zero scope of errors, thereby maintaining high accuracy across all the functions. Taking note of the efficacious procedures that are a result of HR automation, the time and costs incurred on various other related functions is also dramatically reduced.
Enhanced Employee Performance & Productivity
Among the multifarious boons of an HR software, one that surpasses all is the enhanced performance and productivity of the workforce. The previous point highlighted how the automated HCM suite of HROne catalyzes process efficiency. Now that results in an improved employee show! When manual work is reduced, errors are eliminated, and tasks are streamlined, then work deliverables automatically get faster and better. Finally, with the proper tracking and management of performance, the succession planning of employees becomes hassle-free.
Improved Decision-Making
Advanced systems like HR software are well-recognized for creating elaborate reports that provide valuable insights. These days, 3-D reports can be generated to give an all-inclusive view (top view, bottom view, drop-down view) for easy data access and interpretation. Using the comprehensive records, it becomes easy to recognize patterns for evaluating and managing the workforce, conducting culture surveys and simplifying elusive dashboards. Thus, these in-depth reports prepared by the system independently for each HR process makes the analysis easy for the employees to understand the HR processes and for the CXOs to make important business-related decisions.
Compliance With Employment Regultions
No business unit wants to get into legal troubles and this is, again, ensured with the help of HR software. While automating HR processes, the system also takes care of the company policies, government norms, labor laws, and other regulations so that there is no compliance issue. Be it the statutory deductions to stick to tax compliances or employment rules, the software abides by the law. Also, the HROne HRMS software auto-updates as per the latest amendments in all the applicable rules, regulations, policies, norms, and laws, thereby avoiding any discrepancies and legal issues from taking place.
Loved and Appreciated by India's
Top Names
Frequently Asked Questions
HR software is an end-to-end digital solution that automates HR processes (from onboarding to retirement), simplifies employee management and delivers actionable data to aid organisation's growth. It's a unified platform that offers different modules in one place – payroll software, attendance management software, employee engagement software, performance management software and many more. Additionally, it can also enable employees and managers perform better at work, store personal information, manage tasks and set goals. Meant for businesses of all sizes, the software is available on-premise or on-cloud. On-premise is usually uploaded on-site on computers and can only be used during office hours inside the office. On the other hand, on-cloud HRMS software can be accessed anywhere, anytime with an app and Internet access on your mobile, laptop, desktop etc. Oftentimes, HR systems is also called human resource management systems (HRMS), human capital management (HCM) and Human resources information systems (HRIS).
An HR Software assists the Human Department of an organization by automating end to end HR processes from onboarding to retirement and keeping the employee data in order. With an efficient HR Solution, the administrative burden of HRs are reduced and their productivity is increased manifold with elimination of repetitive tasks.
There are numerous HR processes in an organization that consists of repetitive tasks and require record keeping of employees data in different stages of the Employee Life Cycle. . When an HR manually performs these tasks, the time consumption goes higher, for eg. whenever there is an open position, an HR is required to manually draft the job description and update the vacant position on different portals, while this can be easily achieved with the Recruitment solution in a few taps.
Similarly, the payroll function of an organization is processed every month where an HR spends his most time in preparing accurate paid inputs, maintains multiple spreadsheets and checks for errors several times before finally crediting the salaries to employees' accounts. All this & more could be achieved in a few clicks with a Payroll software.
It's imperative that in order to save time, efforts and expedite HR processes and productivity, a company must invest in an HR Software.
Minimum features that an online HR software must have – Centralized employee database, employee self-service, HR reporting, ease of use, payroll management, attendance & time management, and performance review management.
If you are looking for HR software for startups, medium businesses and enterprises, start by deciding on what requirements you want it to fulfil, what's your price range and, lastly, what should the HR system achieve. Next, keep this add-on checklist handy when making a choice – user friendly, privacy and security, remote accessibility, cloud service and customizability.
Over 500+ leading brands in the country trust HROne to manage their most important resource: Talent. Recognised as India's best agile end-to-end HRMS software in India, HROne helps businesses become future-ready by transforming the connection between workforce and technology.
In a small business setup, there is generally a single HR who is responsible to perform all HR and administrative tasks like employee record keeping, hiring, payroll processing, promotions, time tracking etc. An HR software not only reduces the administrative burden of the HR but assists him in formulating stipulated workflows, structured policies and aids in comprehensive record management. With a small monthly investment, a startup can streamline all its HR processes, curate desired culture & manage talent more efficaciously.
HROne is an intelligent enterprise ready HCM suite that's future ready with the first ever Mobile app that has Employee self service, Manager self service & HR Self Service. Our HR software commits to deliver 3X efficiency in the existing HR processes of your organization by truly automating each workflow, policy and HR tasks. Our innovative #InboxForHR allows the HRs to perform all HR functions in real time and not switch to different modules tab to view and complete tasks. Apart from 10 full fledged modules, we have unique innovations like HR Desk to perform google like action based searches, Template Vault (100s of free & vetted templates, checklists), Touchless Payroll, HR Reports Scheduler etc. to take your HR functions to the next level and craft the best experience for your employees.
When we talk about HRMS software pricing in India, HROne comes off as a powerful, all-in-one and yet the most affordable and best HR software in India you can buy today. It is scalable enough to meet your growing company needs and hence a great fit for your Human resource software for small business and large enterprise requirements. HROne keeps it HR software pricing in la carte system. You pay for only what you use. Customers can additionally opt for powerful add-ons, HROne mobile app being one of them
HROne's interactive and agile mobile solution is designed to empower organisations & take user adoption to new heights. It's built on three key pillars – speed, efficiency & convenience, With HRone app, employees can stay connected to the organisation, anywhere and anytime, It's integrated modules cater to every strategic and functional aspect of human resource management that can morph the entire game for your HR Tech. Find out how you can reduce efforts, increase productivity, and discover time for great things by accessing all the functionalities of our web application on HROne mobile app.
HRone lives by the 'You scale, we scale' motto. Our core engine provides immense flexibility to support your organisation's future expansion plans with easy configurations.
HRMS, short for human resources management system, is a complete package of modules or software applications integrated to manage end-to-end HR operations throughout the employee lifecycle. It is a comprehensive software that simultaneously streamlines core and strategic HR functions and combines them to form a single solution.
HRMS software is used to run multiple HR processes in harmony to ultimately improve HR efficiency. It facilitates safe and efficient management of employee data. The cloud based HRMS software enables an organization to manage its workforce efficiently through the use of information technology and stay compliant with the modifications in tax/labor laws and regulations. If you are looking for top HRMS software in India, we suggest you first access the HRMS software features that are totally non negotiable for you.
Largely, there are 10 different HRMS software modules including:
Core Human Resource
Recruitment Management Software
Attendance Management Software
Performance Management Software
Payroll Management Software
Expense Management Software
Workforce Management Software
Employee Engagement Software
Helpdesk Management Software
Instant Chat Support
Using online HRMS software is beneficial for businesses in several ways. It frees up time by automating HR tasks, puts important information at your fingertips, makes employee monitoring & development easier, and keeps your critical employee data secure. Using an HRMS software helps improve employee productivity, performance, and engagement, and process HR activities faster, thereby enhancing overall business efficiency.
HRMS software is a unified platform that runs on the basic need of managing and automating all the routine HR processes. To keep the HR activities in synchronization, the software seamlessly integrates all HR management software modules together as well as with external platforms. It works by increasing efficiency of a variety of functions from 'hire to retire' including organizing employee details along with organizational information, making it easily accessible to the users.
The best HRMS software in India are highly flexible and scalable. Meaning, these human resource management software systems will cater to the needs of every business, no matter the size, industry or complexity. HRMS software can be scaled as per the use of startup companies having as less as 50 employees to large enterprises with as big as 5000 employee headcount. HRMS systems also give companies the flexibility to begin with only core modules and then add more modules with the increasing requirements as they grow.
HR software in India has acquired visibility and has been labeled as the dark horse of all small businesses. As a result, a lot of investments and acquisitions have been taking place, and it's interesting to note that small HR tech companies have been providing cutting-edge technology infused with cloud computing that big names of the industry are struggling to deliver to their users. But, how to find HRMS software to cater to most of your business needs. Let us provide you with a checklist of features you must refer to before finalizing HRMS software for your business:
Integrates various modules for the smooth recruitment process, employee onboarding, attendance tracking, payroll management, employee engagement, and much more
Simple and interactive user interface for delivering B2C experience with cloud-based application
Automate and optimize the flow of work across organizations, be it HRs, CXOs, or employees
Mobile-friendly application to give access to teams and execute day to day HR functions from any time, anywhere using iOS or Android OS
Create actionable insights for making better decisions and strategizing as per priorities
Built-in features to import bulk data across the system rather than entering them manually into the system
Scalable platform suited for small to large enterprises with any number of employees
Minimal learning curve for easy and quick adaptability of software
Implementation time must be tried, tested, and minimal considering the size of the organization
Product training course to empower all your employees and easy configuration of software
Based on the above checklist, you can finalize your cloud-based HRMS software and implement it to perform HR functions effectively.
HRMS Systems By Cities
HROne is an HR software that takes pride in its distinguished approach to help all the businesses across India automate their HR functions. We wish for everyone to get the B2C application experience in a B2B one. Instead of making you come to us, we come to you. HROne experts are available locally around or at the place you are. Here is a list of all the prime cities HROne HR software experts are available at.
To know more, you may explore-
Make the intelligent choice.
Switch to HROne today!

Almost 73.2% of HRs' time is wasted in doing tedious administrative tasks manually while more than 56% of the tasks they perform can be fully automated. With HROne HR software not only do the HRs get to save 20 hours or more per week but also do it all with a single highly integrable application on their desktop and mobile.
While all the functions run on autopilot with little or no human help, the HRs get time to do tasks that actually need their attention like Interviewing, negotiating and working on key metrics of importance like employee attrition, happiness, satisfaction and more.
We are claimed by our clients as the best HRIS software for even more reason than these. Fill the form now!
Get Free Demo