Performance Management Software
#1 Performance Appraisal Software to create a high performing performance
Don't just review, help your people achieve goals with the best performance management systems that's easy to set up and activates continuous and 360° evaluations.
Request A Demo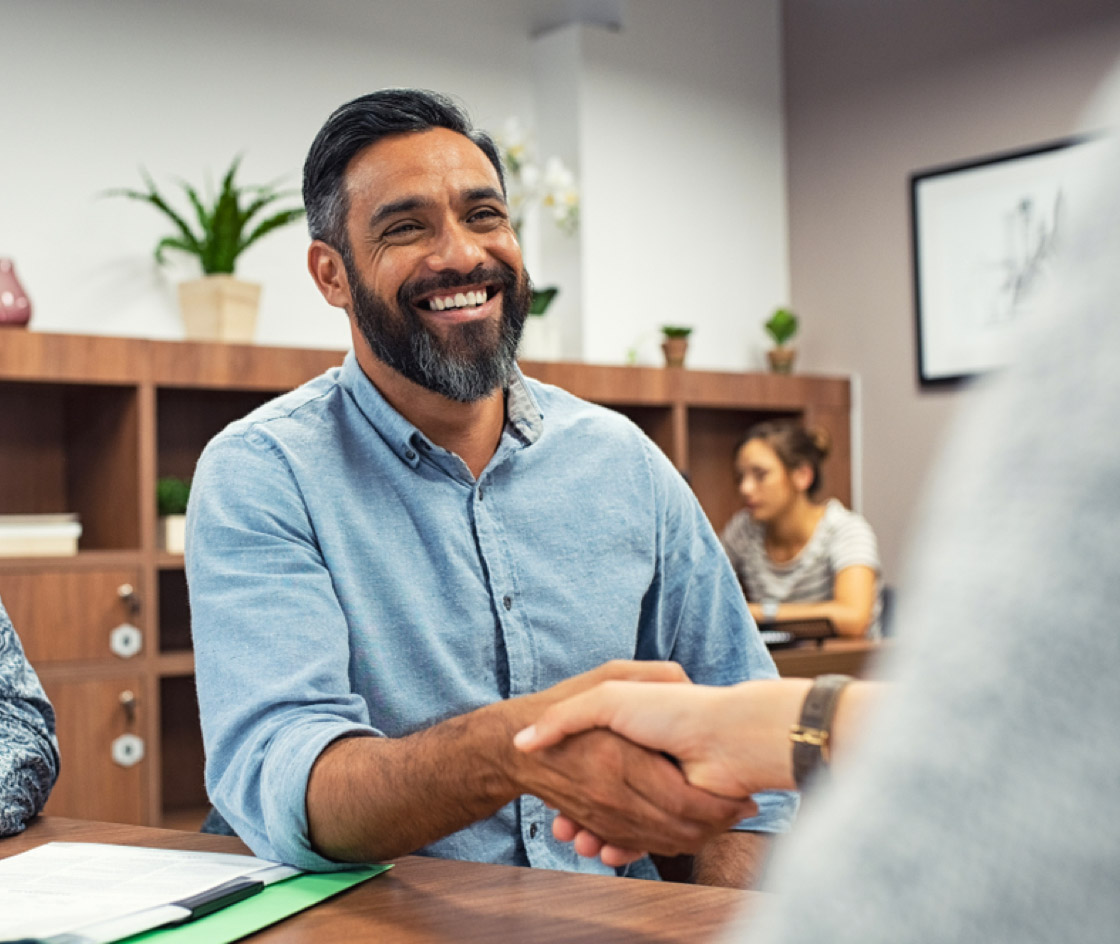 Why HROne Performance Management Software is the Best?
HROne performance management systems to say bye to scattered pieces
and address the gap between strategy and execution
HROne performance software with the well stipulated evaluation model
that aligns individual tasks with actual goals and tap into the potential of every employee.
Our Clients See Value in it, Yours Will Too
"With HROne, we have conducted smooth performance evaluations with quick goal settings, easy KPIs & KRAs mapping for all employees in the system"
Gaurav Bhardwaj
Senior HR Manager – Elementia Wellness Pvt. Ltd
Goal Settings
Made easier
Goal cycle – no manual setup
Define monthly/quarterly/ bi-annually or annual goal cycle. Identify limitations, set KRAs, KPIs, competencies as per the designations. Give flexibility to employees to outline their own goal sheet.
Choose from predefined templates
Whether it's for the sales department or finance or HR, pick relevant goals from existing templates and map them as per the departments and designations. You can also copy from previous goals sheets offered by our performance appraisal system software to fasten the process.
Don't forget your new joiner
Your new joinees are never missed, goals are auto triggered as per the policy on completion of 3 months, or as defined.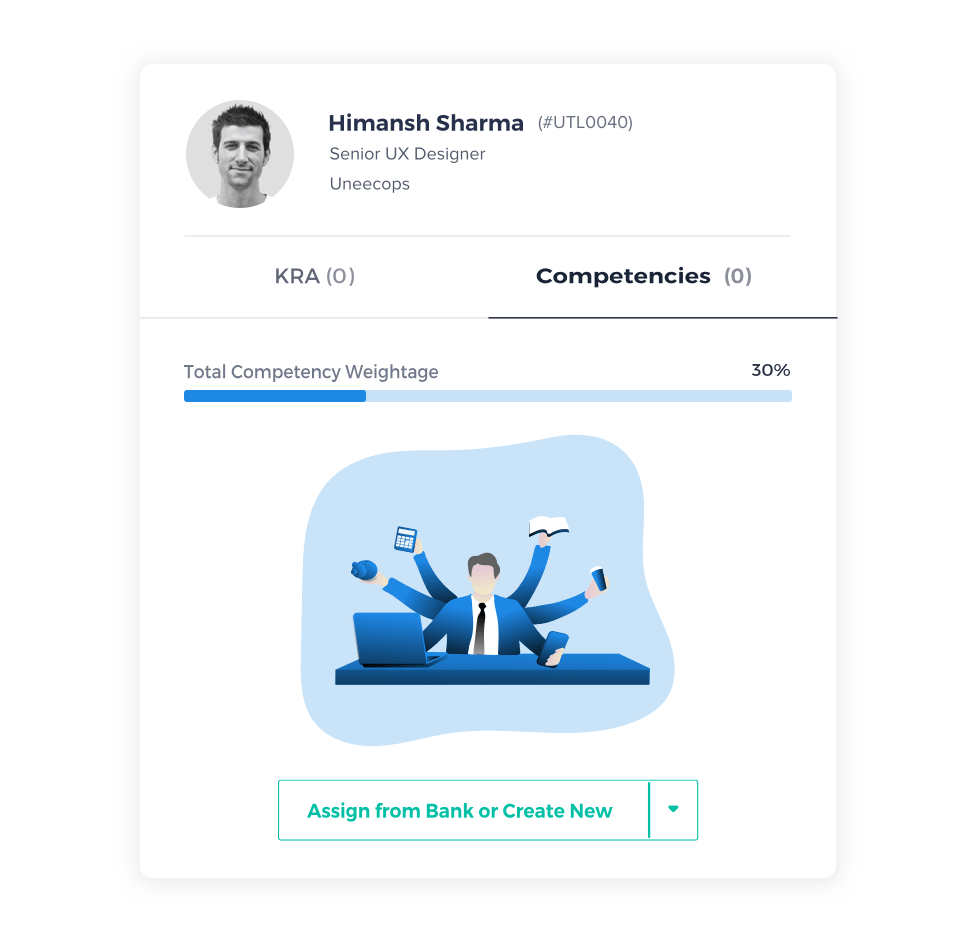 Continuous Feedback
Track progress in real time
Link initiatives with goals
Let your employee get a good grip of their work direction by aligning their weekly initiatives with goals. Once assigned, link initiatives with the KPIs and on completion, auto trigger team or manager feedback.
One on One Meetings
Why wait for Quarter end or year end for reviews and feedback. Now managers can raise a request in HROne and schedule one on one meetings with the team.
Record the MOMs in the Plan, Progress, Problem model, clearly stating takeaways and actions with our saas performance management software.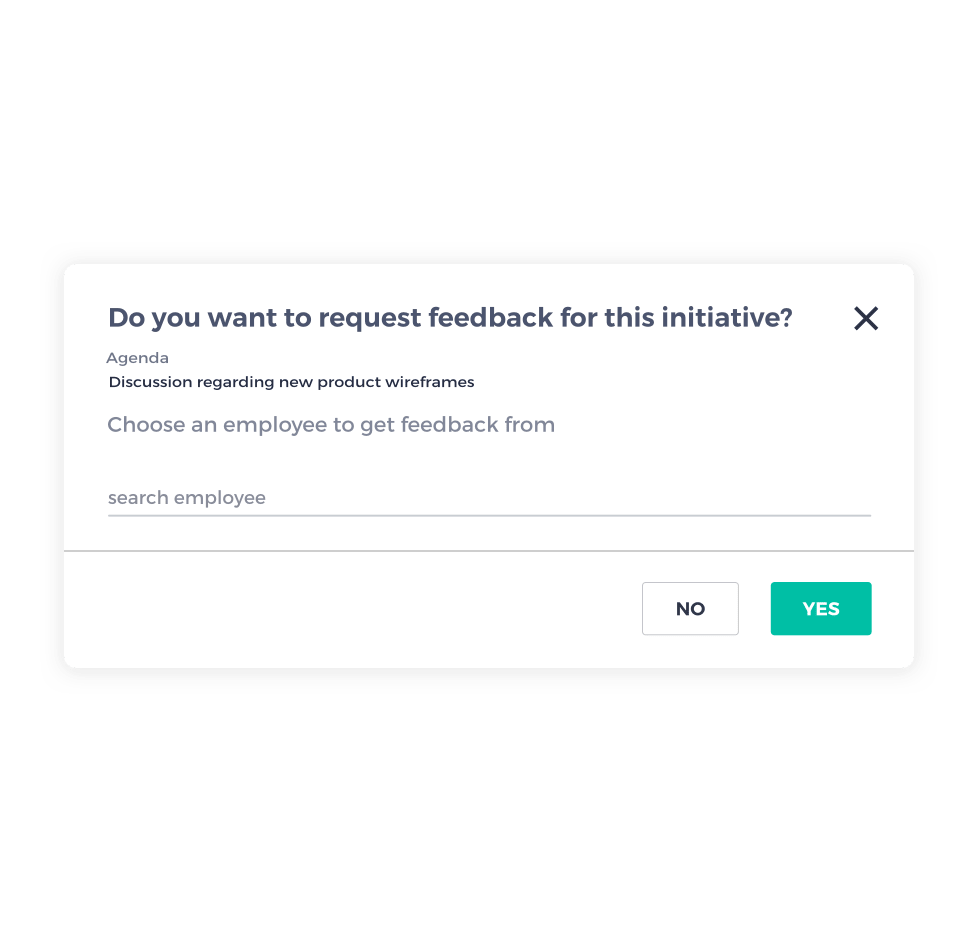 360 degree feedback
Transparency assured
Choose nominees and nominator
Get feedback from people you work with for a fair and accurate evaluation with our Performance appraisal software. Map the nomination process with role and workflows – who will nominate who and the minimum number of nominations for any employee.
Once approved, the process is auto initiated and feedback from all nominees are captured.
Customize feedback
Customize the feedback questionnaire, modify it as per the nature of work involved and for different nominees. If need be, capture feedback from the clients.
Feedback on, always
Set the duration for the feedback cycle and leave it to the system. Foster employee growth through continuous feedback with our best employee performance management systems & sofwtare.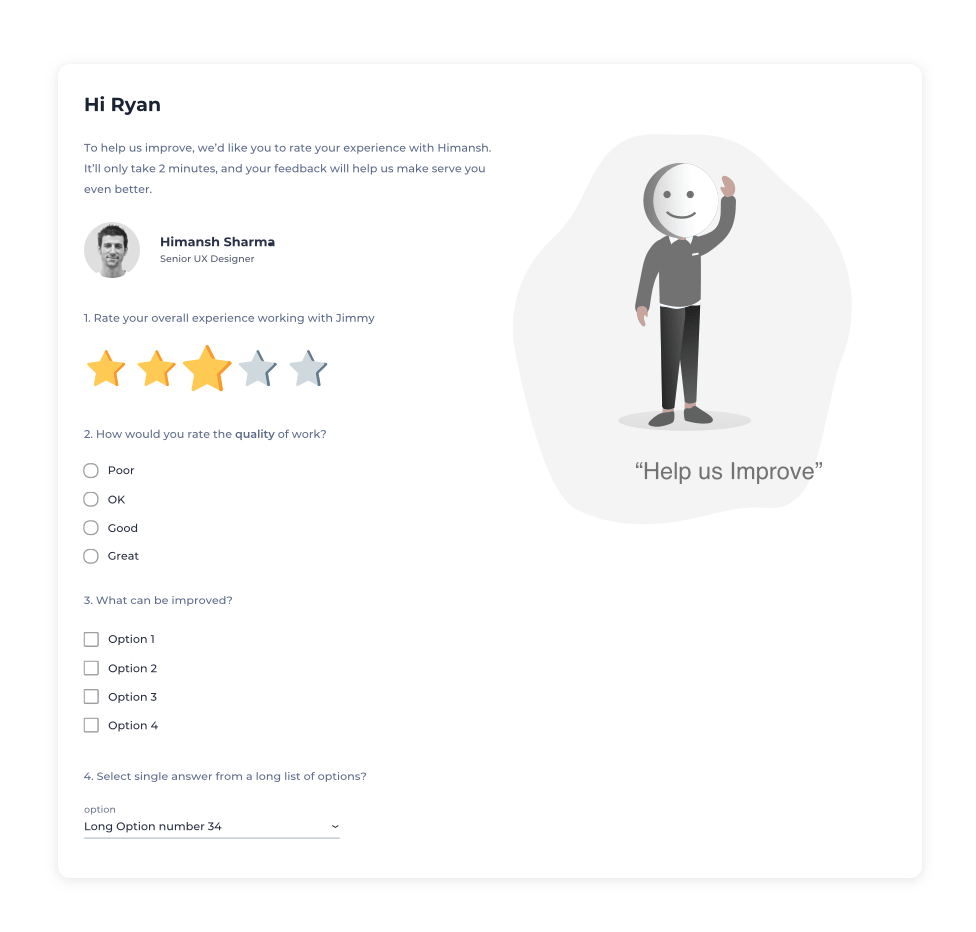 Reviews
Take all in account
Automate Reviews
Once the review policy is laid out, the tasks are auto triggered in the inbox unlike conventional performance management systems where tasks have to be annually assigned.
Evaluate the rewards, badges, accolades your employee has earned over the year for a fair and all rounded assessment.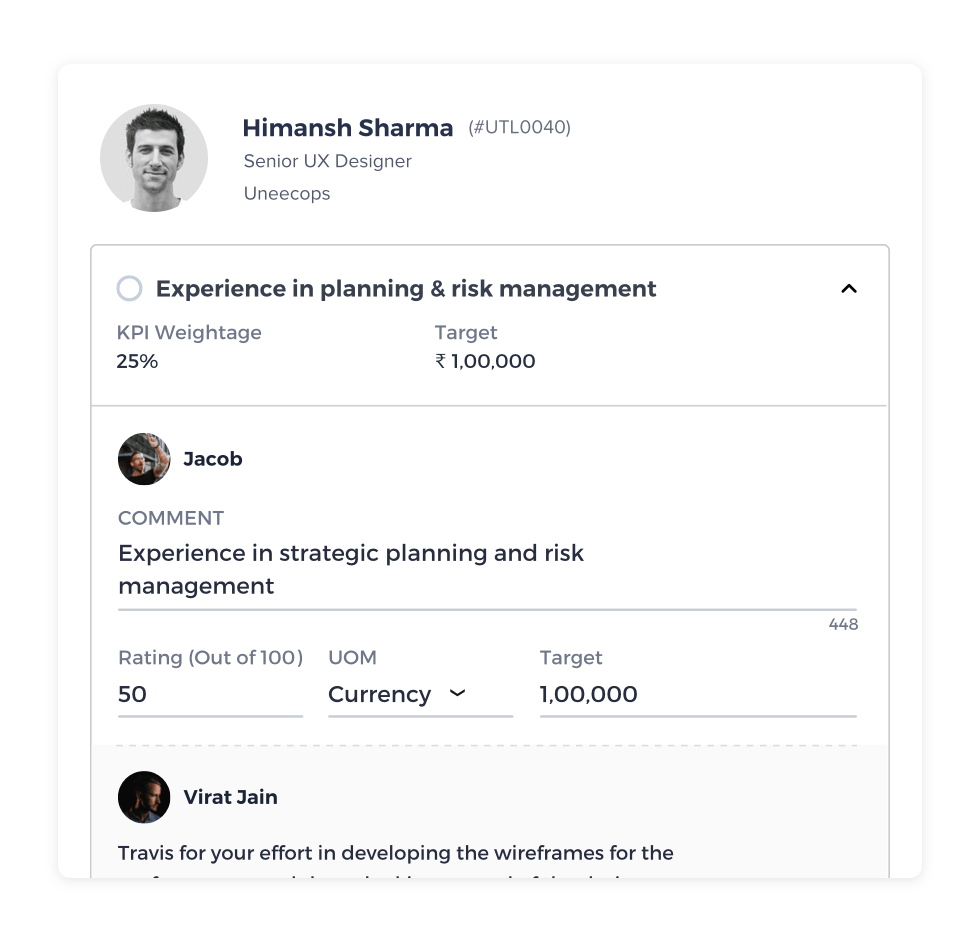 9 Box Matrix
Identify your future leaders
The amazing leadership review tool
Evaluate your employee's current and potential level of contribution to the organization on a 9 box matrix offered by our top OKR software
The vertical columns of the grid indicate growth potential, and the horizontal rows identify whether the employee is currently below, meeting or exceeding performance expectations.
The intersection of the two determines the employee's current standing and where development may be needed.
Insights
Check trends to make more informed decisions
Discover your new hire quality
Interviews can be misleading, check insights to see the top and poor performers out of all the new hires on the basis of KPIs and continuous feedback.
Identify top and poor performers
Multiple personal and professional reasons can influence the performance of employees. Use our performance management software to gauge if the work quality of a particular employee has improved, got stagnant or declined. Align new positions for poor performers in the recruitment management software.
Check the 1 on 1 and initiatives trend
Is continuous feedback given enough importance or not? Use our HR software to understand how many 1 on 1 are created and initiatives are taken in your organisation with our best OKR software
Dive in the organisation wide performance
Spot the top performers and poor performers across organisation or department wise and use employee appraisal software further to make the right reward, recognition or improvement plan for them.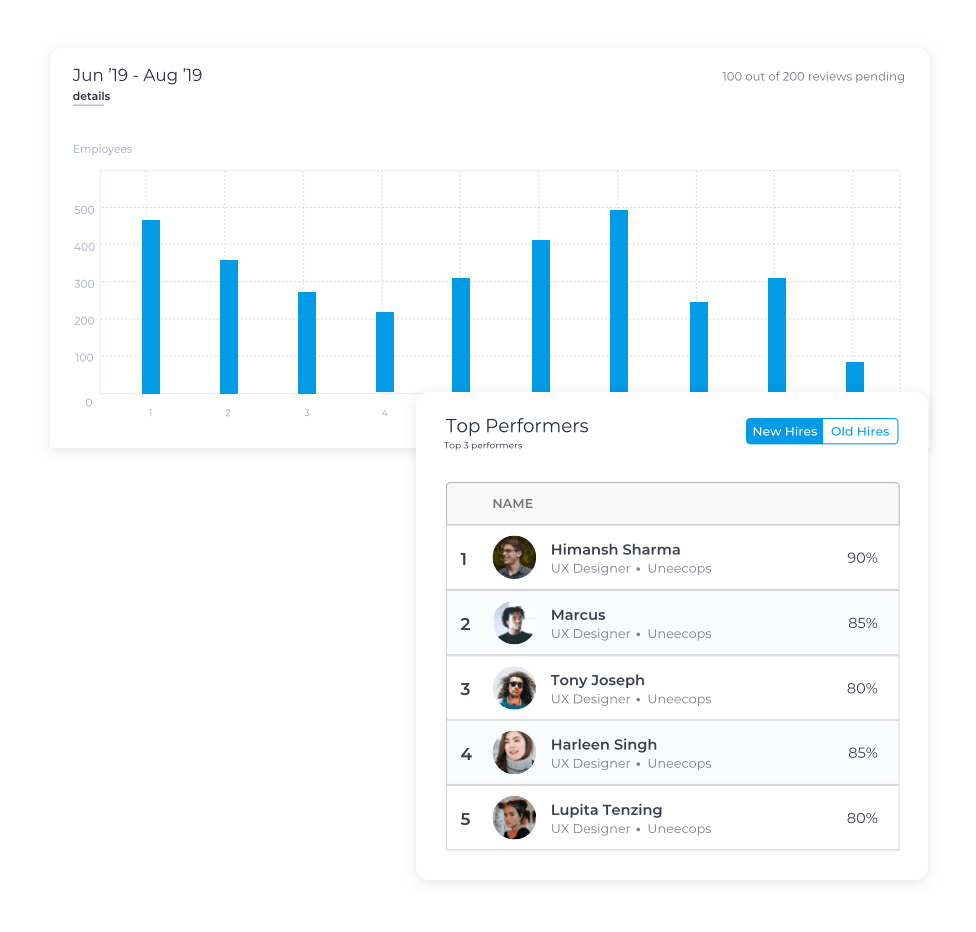 Employee & Team Performance
Update or review effortlessly
View team/individual goals and performance
Our HRIS software empowers employees and managers likewise. While employees can see, update their goals, create initiatives and check the feedback, managers can tap into the individual and team performance using our OKR software
Know the performance analytics
Spot the top performers, low performers, the ratings given, initiatives taken and more. With our performance management software, the managers can tap into their teams' performance like a breeze.
Create/ Change and review goals
The employees can create their goals, do self review and a lot more while the managers are empowered to edit the goals and review the performance for the appraisal ad bonus purposes with our performance appraisal software.
Mobile App
Do more on the go
The mobile app lets employees and their managers create, change and update key performance elements on the go. Employees can create and view goals, take initiatives, create one on ones while the managers can edit and review goals and provide feedback from anywhere, anytime using our employee HR performance management software!
While using the attendance management software and payroll management software key mobile app features the employees can check their attendance and download payslip,
Frequently Asked Questions
Performance management software is a tool that helps managers set and track goals for employees in their team individually so that the employees can perform optimally. The ultimate goal is to help employees progress in their career and help the company achieve border business goals. The evaluation also acts as a yardstick at the time of appraisals.
Every performance management software is different in its approach but here are several things that you must consider:
Goal setting method-

The way the system defines goals sets the tone for how right the rating would turn out to be at the end of every review cycle. Make sure to confirm with your vendor if they have the option to set KRAs and KPIs.

Painless feedback & review-

The feedback and review cycle should be customisable as you might want to do reviews monthly, quarterly or bi-annually.

Real-time reports-

The reports can help you check your top and poor performers, best new hire, meetings trend and overall organisation performance so that you can focus on employees creating a sound plan for every employee

The after-sales support-

You might get stuck somewhere using the module after it is being implemented. Hence, you must check with the vendor if they provide after-sales service and the usual TAT.
Yes, performance management software identifies the gaps in skills, responsibilities, adequate support, and potential for the next role. When you know exactly where an individual needs to improve and progress in his career path, the right training and support help you develop and nurture the employees. The performance system also has the option to add and suggest courses or workshops, even a skill that an employee needs to work on in a particular review cycle. The same also sends across the message that you care for your employees' growth and success as much as yours.
The software builds a high-performance culture in which healthy competition is instilled in teams and individuals when evaluated and rewarded. They remain motivated to do better as they get clarity about their goals, and how they fit in the bigger picture i.e. the business goals.
The PMS hr builds a high-performance culture in which healthy competition is instilled in teams and individuals when evaluated and rewarded. They remain motivated to do better as they get clarity about their goals, and how they fit in the bigger picture i.e. the business goals.
HROne is better than any other performance software in multifarious ways, some of them are below:
360 Degree Feedback-

The HROne performance system allows you to set nominees and nominators for better evaluation of employees' work with a customised questionnaire.

9 box matrix-

It is a special leadership review tool that identifies your future leaders and disaster-proofs your organisation by preparing the next employee in line for the senior position.

Insights-

The performance software also helps you in discovering the new hire quality, spot the poor and high performers and make the right R&R or improvement plan for them. Besides, you get predefined templates to map goals as per designation, copy the previous goal sheet, record MOMs, auto-trigger goal creation task after the probation period of the new joiner ends and more.
You can create and update major performance elements from anywhere, anytime. For instance, you can create performance goals, one on one, take initiatives, share feedback and review and edit goals set. Continuous and 360-degree feedback is enabled on ios, android and windows- all three!
HROne ensures continuous performance management by empowering you to see goal progress in real-time. It gives you the option to decide the goal review cycle, enable 360-degree feedback that involves feedback for every initiative or task assigned by peers, manager, clients (everyone involved). The tasks to review are auto-triggered on every goal cycle to HROne Inbox so that they are never missed. The rewards and badges also keep motivating the employees constantly.
HROne performance management software experts are locally available in Delhi, Mumbai , Chennai, Hyderabad, and Bangalore. They can always come to the city you are in to help you automate your HR functions.
Why choose employee performance management software by HROne?

As per the data available, only 50% of employees understand their work expectations and goals fully.
The existing HROne users claim the module has helped them reduce this figure to 1-5% and increase engagement and productivity 5x more with clear and auto-triggered goal sharing, continuous 360 feedback, and proper recognition. Managers get to track goals and share feedback in real-time with a mobile app, HRs get less to no appraisal meeting conflicts due to our performance appraisal software while CXOs are able to view analytics like top/poor performers, hire quality and use the 9-box matrix to identify the future leaders.
Make the intelligent choice and switch to the intelligent enterprise-ready HR Software and best payroll software empowering your team to achieve 10x better results.