Accelerate employee performance with India's leading PMS software
Refreshingly simple easy-to-use performance management software (PMS) custom built to meet the demands of Indian companies & HR professionals
Define & assign KRA, KPI & competencies
Provide employees with continuous feedback
Implement 360˚ review & 9-box evaluation
Track & review performance in real-time
4.7/5
Software Suggest
4.5/5
G2.com
4.3/5
Techjockey
Schedule a Demo
Switch to intelligent performance management




Complete performance management software for SMEs & large companies
Achieve organizational & departmental goals with an end-to-end PMS software
Get Free Demo
Create Goals
Create & assign KRA, KPI & Competencies
Pre-Configured templates
Use pre-configured templates for goal creation
Create Cycles
Define goals & review cycle to suit your needs
Continuous Feedback
Provide continuous feedback to teams & employees
Assign Initiatives
Assign individual initiatives to employees
Conduct 1:1's
Conduct 1:1 meeting & track improvements
Reward Employees
Recognize employees with badges & reward points
9-Box Evaluation
Evaluate your leaders with on 9-box metric system
360 Degree Feedback
Gather full circle 360-degree feedback for your employees
Appraisal Ratings
Performance-based appraisal rating for increments
Performance Dashboard
Get real-time actionable insight & drive performance
Customized Reports
Get customized performance reports straight in your inbox
500+ customers & counting
Some of the best companies in India use HROne to process their payroll.
















Seamless Integration
Easily connect with 15+ software you may already use to get the job done.
Get Free Demo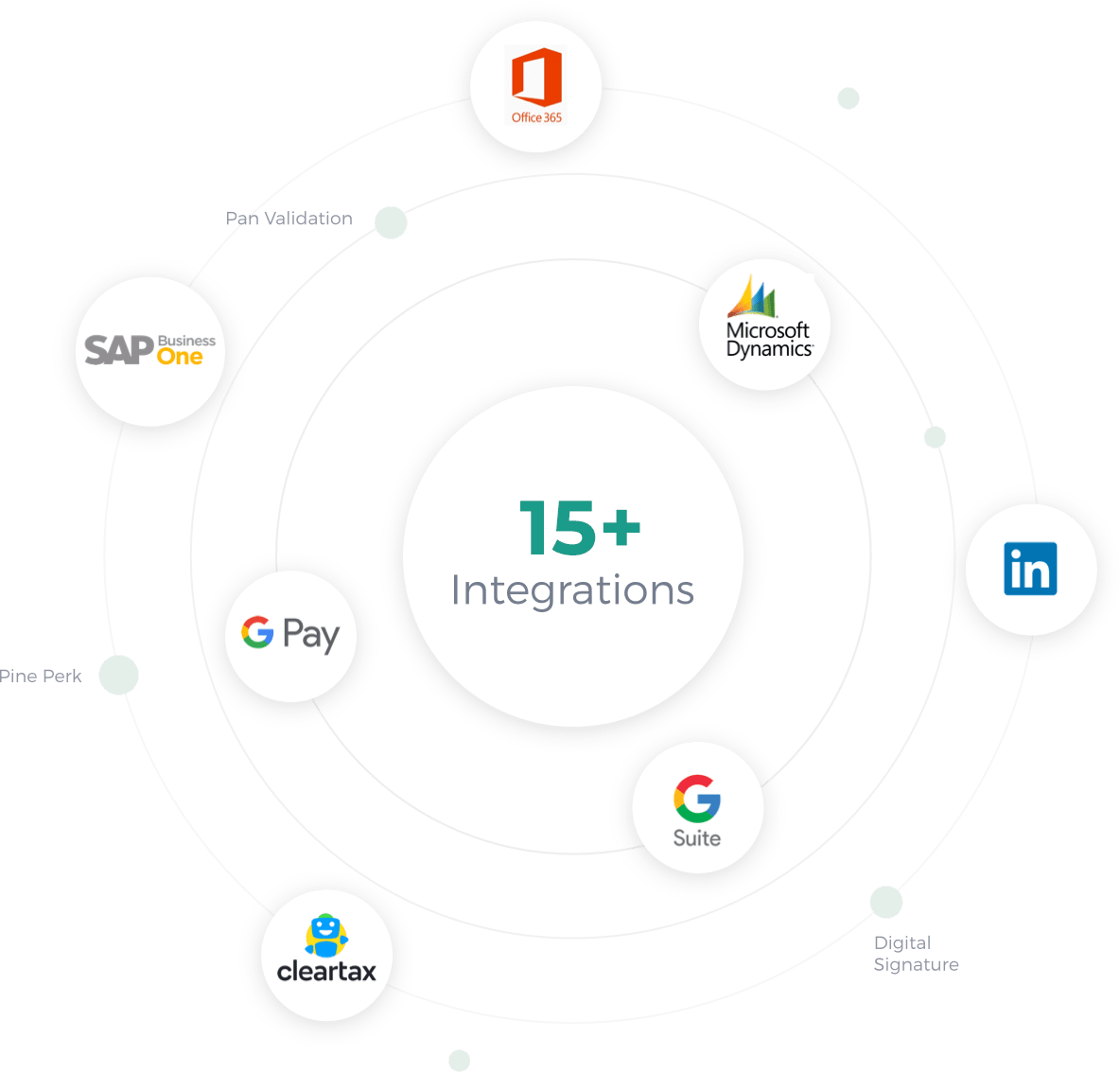 Core
Define organisational structure, assign roles & permissions, grant access rights and more.
Workforce
Manage your employee life cycle from onboarding to exit, publish letters and more.
Payroll Outsourcing
Run error-free payroll, manage loans & re-imbursements, meet statutory norms.
Attendance
Real-time attendance management for managing attendance, holiday calender & shifts.
Performance
Meet organizational goals & improve performance with continuous feedback, 1-on-1's, 9 boxes and more.
Engagement
Boost employee morale & improve employee engagement using engagement tools.
Helpdesk
Conversational ticketing system for efficiently managing employee grievance, queries and service requests.
Chat
Communication & collaboration tool that brings your teams together anytime, anywhere.
Expense
Manage employee claims & reimbursement with ease.
(Coming Soon)
Need more than just PMS software
Try our comprehensive HCM suite for end-to-end HR automation
Get Free Demo