'Human Resources is primarily about people and should be kept away from technology, else it will replace humans.'
Only a person from the stone-age would think like this in the new world of work, which is evolving fast.
So, what is the correct way to look at technology in human resources?
Karan Jain, Founder, HROne believes that "HR tech is meant to augment HR functions, not replace it.
If that sounds even a bit convincing, this article is for you.
Whether you are looking for the latest HR tech trends to invest in the right human resource software for your organization or still getting to understand HR tech better, you will have all your questions answered right here.

What is HR tech?
HR tech (Human resources software) refers to the software technology meant to automate essential HR functions that are recurring, time consuming and prone to errors.
Some such functions are:
1. Payroll processing
2. Attendance tracking
3. Talent acquisition
4. Performance management
5. Expense management and more.

Importance of HR tech
HR tech has successfully revolutionized the paperwork driven HR departments of the past into a digitized and efficient role. Human resource software has freed HR professionals from their administrative burdens, so they can focus on the 'human' aspect of the job function like recruiting quality employees, engaging employees and improving the overall employee lifecycle.

How can HRs use HR tech effectively?
Technological advancements have completely disrupted the human resource ecosystem. Instead of fighting the change, HRs leaders must embrace the new changes and evolve with the changing world of work. Following are the ways in which HR professionals can use HR tech effectively:
Stay abreast with the HR tech trends – HR professionals should gain a thorough understanding of the HR tech trends in order to choose the right human resource software and reap as many benefits from it as possible. By being familiarized with the relevant technology, HR leaders can maintain a high level of competency.
Keep the tech-related policies up to date – New technology innovations have changed the way employees work, so it's important for HRs to amend policies routinely for them to be fair and consistent.
Foster an agile work ecosystem – Organizations need to be able to adapt to the new technology. They must achieve greater agility by nurturing a culture of trust, collaboration, and respect in the workplace. These values form the foundation for informed decisions, and swift metamorphosis.

Top HR Tech Trends You Must Know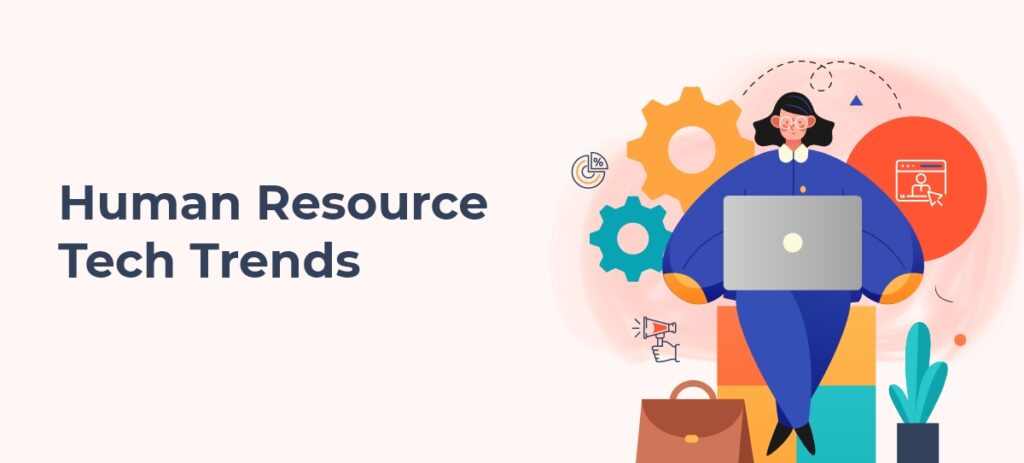 From payroll automation and talent management to AI (artificial intelligence) in recruitment and use of technology to track employee mental wellbeing and prevent burnout, there are many benefits of human resource software.
Here are some HR tech trends you must know to make the right choice when investing in or upgrading to an intelligent human resource software to stay relevant in the new world of work:

Technology upgrade for remote work
2020 marked a massive change w.r.t. remote work. The pandemic boosted the remote work trend and made working from home a permanent reality for employees. And hence, new HR technology trends were bound to follow. Organisations have to ensure that remote workforce get the same learning opportunities and there are no hindrances in the working process. And, hence investing in a human resource software that supports the organizations remote work policy is essential for HR leaders today.

Cloud-based HR Technology
Bringing together the disconnected workforce today, distributed across multiple locations is one of the biggest HR challenges today. Cloud-based human resource software can give all members on the team the ability to access relevant workplace data anytime from anywhere.
The benefits of this technology are:
1. Reduction in human error during the data input process
2. Better team collaboration
3. Lower overhead for handling everyday assignments
4. Save businesses both, time and money
5. Flexibility and ease to update

Data Security
With remote work becoming a norm, a huge reliance on the tech sector and cloud technologies, calls for the need to protect employee data. So, what has contributed to this becoming one of the top HR tech trends? Recent legislation passed in support of data privacy and security (like GDPR). These new HR tech trends focus on increased security as an additional human resource software feature but also push organizations to adopt new procedures. If you want to implement a system with efficient data management and security for your business, HR leaders need to prepare the workforce for the shift and changes in conduct.

Employee self-service tools
HR professionals are the go-to people for many queries in the workplace and are oftentimes considered as a connecting link between project managers and execution teams, overloading them with tasks and assignments. The advancement in HR technology has enabled the emergence of self-service tools. Here are some benefits of integrating a self-service platform into the workplace: Improved administrative task efficiency, better transparency, efficient expense management and boosted employee morale, reduced burnout.

People analytics tools
People analytics tool is the missing link between managers and employees. Here's how people analytics tools can be effectively utilized in different stages of human resources management:
Training: Can help in determining the employees preferred learning style and encourage team members to upgrade their skill set;
Engagement: Can help in mapping out an effective employee engagement strategy
Employability: Can aid in finding out the ways to use the organization's internal workforce and avoid having to hire new employees
In short, people analytics tools offer employers a detailed outlook on the state of the workplace.

Employee wellness management
According to a recent study, working long hours can lead to an increase in the risk of burnout, a drop in productivity and an increased risk of mental health issues, including anxiety and depression. Hence, one of the latest trends in HR technology is employee wellness management. Not only does it help in keeping a track of employee's wellbeing, but it also allows setting right performance expectations and increases the prospect of achieving better productivity. Another HR tech trend ideal for employee engagement, which ultimately supports employee well being is gamification. A human resource software can include some milestones and achievements that can encourage people to take breaks, exercise, and give feedback on their well-being.
Other HR tech trends to look out for are:
1. Connected platforms in the workplace
2. Biometric time tracking
3. Real-time performance management
4. Gig economy and contractors
5. AI in employee management
6. Enhancing recruiting experiences
Summary
The future of human resource management is intimately intertwined with HR technology. More organisations are likely to shift to all-in-one HCM platforms and tools. To stay ahead in the field and be a frontrunner, you must consider integrating intelligent human resource software into your business workflow.