In today's fast-paced world, disorder is a constant challenge. For businesses to sustain, adapting to changes is crucial for survival. Thus, in the future of work, Organizational Development is becoming a top priority which is also the new normal – a powerful strategic process formulated to help organizations thrive.
As in other critical processes, organizational development also needs to be tracked with proper HR analytics and metrics. Since financial data or traditional HR KPIs alone are not enough to describe organizational capabilities, a mix of key metrics are required to build a future-proof organization.
We will help you identify the required HR metrics by finding answers to the right questions related to each metric. Here are the top 5 HR metrics specifically designed to monitor organizational development that will help you manage your organization's effectiveness and ability to change: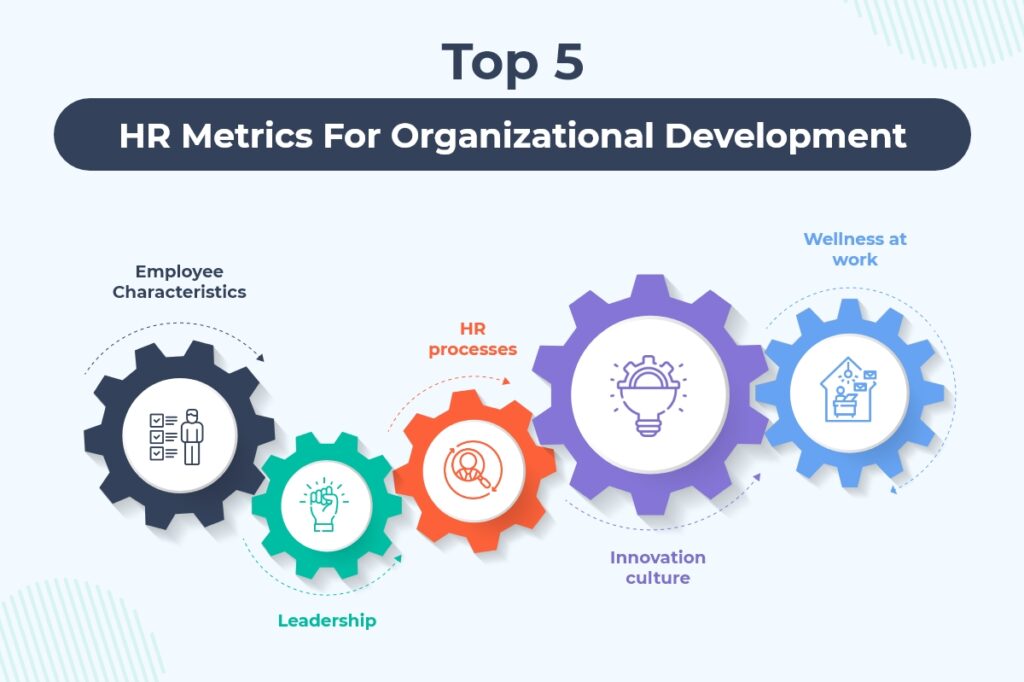 Employee Characteristics
Quick question – What percentage of your employees are able to drive innovation and change?
In order to get to the number of high-performing employees in your organization, you should evaluate the percentage of employees with high productivity and performance as compared to the total employee base of the company. In this way, you can easily analyze the metric as to how much of your workforce is ready for driving innovation and change.

Scope of Leadership
Quick question – Are your key managers able to bring about change?
To answer this question, you can focus on the percentage of managers who take part in leadership/skill development programs. Moreover, you should also take note of managers and supervisors who are rated in the higher categories of performance evaluation measurement scale. This will help you keep track of the managers who can identify and effectively capitalize on opportunities besides giving you insights into the success of your leadership programs.

Human Resource Processes
Quick question – Are your critical HR processes designed to enhance employee effectiveness?
For this, you need to identify the number of critical HR processes designed using high-performance work systems (HPWS). These are the interconnected HR practices that are implemented to boost employee effectiveness. This metric helps to analyze the benefits obtained from this approach.

Culture of Innovation
Quick question – Does your workforce adopt and promote innovation?
To answer this question, it is crucial to know what percentage of employees actively use the implemented tools and tech platforms. Besides, the total number of innovation training hours per employee should also be tracked regularly. The innovation culture metric not only tells you if you need to promote technology adoption to get more value out of these platforms but also empowers the workforce to help the organization adapt to and victoriously overcome challenges.   

Wellness At Work
Quick question – Do your employees feel empowered and supported by organizational processes?
Here, you need to investigate how many employees, in the climate survey (conducted to use the results of the survey in shaping future activities of employees and making informed decisions to enhance employee engagement and overall business productivity), assess/rate items related to the work characteristics (like meaning, responsibility, and complexity), methodologies, technology, and procedures positively. This metric helps you create team players that can add incredible value to the organization and also reveals whether you need to improve the existing tech, methodologies, and procedures of the organization or not.

Conclusion
It is not a cakewalk to measure the impact of the workforce on organizational results. The prime challenge lies in assessing the "intangible" assets. This has shifted the focus on identifying what is possible as opposed to what is necessary.
Nevertheless, organizations require a strategic HR function that is capable enough to synchronize the workforce and organizational effectiveness. For this purpose, HR metrics are developed and tracked for ultimate organizational development.